Kenzley Wilson's IFR Goal Still on Track 
June 18, 2020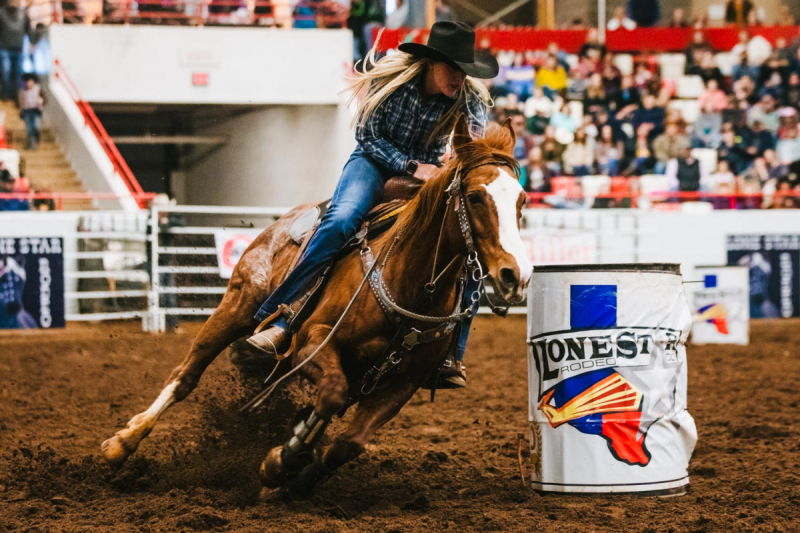 By: Tammie Hiatt
Kenzley Wilson and her 13 year-old mare Maggie were on a roll this spring and currently lead the IPRA world standings. Wilson, from Black Oak, AR, is currently a student at Arkansas State University in Jonesboro pursuing her Doctorate of Occupational Therapy. She completed her undergrad studies at the University of Tennessee at Martin and competed on the college rodeo team.
"I'll graduate in August of 2021 and plan to work in an outpatient clinic in the Jonesboro area. I want to work with older patients, that's where I see myself," said Kenzley. "I wasn't that upset when they cancelled school in March but then they cancelled all the rodeos. That has been terrible for everyone."
"My sights are still set on the IFR, it's just not going to go as I'd hoped. I've been patiently waiting for rodeos to start back up and there have been a few going on near me. But I found out my clinicals start on July 1, so I'll be turning into a weekend warrior."
"I'm looking forward to be back running the mare I bought a year ago. I'd watched a video on her and saw her at a big barrel race and she ran with some tough horses. I kept my eye on her and she was still for sale, so I went to Georgia to try her. When we got there, my boyfriend Ben Walker, said, "we just drove 5 hours to look at a pony!". She's barely 14.1, her registered name is Belljaz, but I call her Maggie. She's all cow bred and was a cutting horse, she's not supposed to be a big-time barrel horse. She wasn't started on barrels until she was an 8-year-old."
"The people that owned her didn't get along with her and said she had a gate issue. My dad and I traced her back and talked with the person that trained her and she helped me a lot.
She told me that if she likes you, she'll win for you. I know that she gives me 110%, she may have a little body, but she's got a lot of try."
"Maggie's got a little attitude, but I've learned to pick my battles with her, and we get along just fine. She could be intimidating but I try to stay ahead of her. I'm more comfortable on her in the smaller pens. Our runs aren't always pretty, but she clocks and that's all that matters."
"Maggie is really the first horse I've bought; we usually raise and train all of our horses. I enjoy riding the colts. My parents and grandparents have all been involved in rodeo so that's all I've known. My mom is currently riding the horse I rode at high school and college rodeos. She lets me use him as a backup horse when I need him."
To see the IPRA rodeo schedule, results and world standings, visit the website at www.iprarodeo.com.
###