Rodeo Win Fans the IFR Flame
March 19, 2020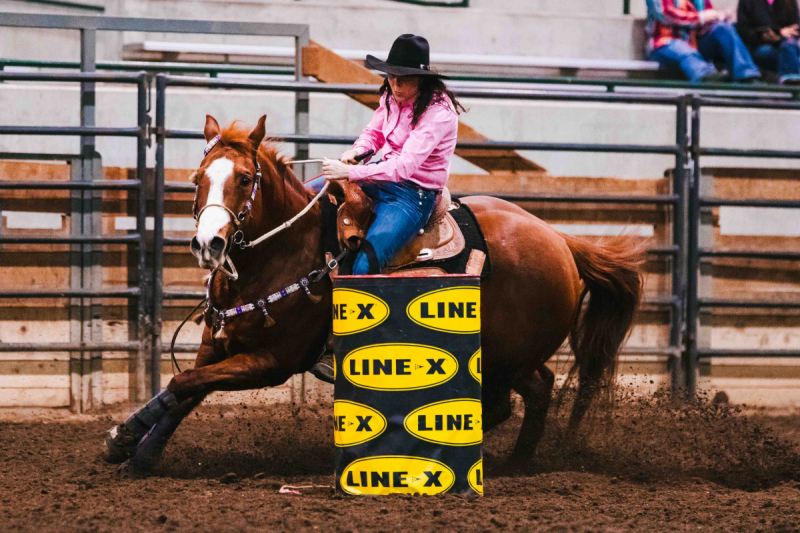 Rodeo Win Fans the IFR Flame

Photo By: Emily Gethke Rodeo Photography
By: Tammie Hiatt

Danette Head of Cecil, OH already has an impressive list of credentials in the barrel racing industry and she's not finished yet, not by a long shot. Danette has made 7 trips to the International Finals Rodeo and is currently second in the IPRA world standings.
She recently earned the win at one of the IPRA's largest winter rodeos, the Michigan State University Spartan Stampede held in mid-February. "I have to admit, winning this rodeo did fan the flame. My friend Kim Overholt wants to make a run at the IFR, and I told her that if she wanted to go, I'd go with her. If things pan out, I say we'll give it a go," said Danette.
"A few years back I had a good year with futurity horses and was able to build a large indoor arena. I've recently made some changes to my program and am riding more outside horses now than I did in the past. I take about 5 outside horses a month, in addition to my own that I'm riding, I'm on about 10 head a day. It sounds like a lot, but it's really not that bad."
"The horse I won East Lansing's rodeo on has a lot of history with me. I bred, raised and trained him. I sold him 4 years ago and in November his owner called and asked if I would ride him and find the right person for him. I ended up buying him back and he's here to stay. Both of his parents were good barrel horses for me."
"His barn name is Riggin and his registered name is Packin Laico. His sire is SammyStreakLaicoBird and his dam is Penny Packin Plenty. He's a 10-year-old now and is only 14.3 and very stout. Running is very easy for him, he doesn't have to fire hard, he's got a lot of easy speed."
"If I had to pick a horse that has left the biggest impression on me, I'd have to say a little mare that only stood 14.2. Her registered name was I Can't Won't You, I called her Jag. She was a Packin Six mare. I bought her as a 3-year-old, and they told me she'd never make a barrel horse, but they were wrong. She was the grittiest, most determined horse I'd ever trained. She's raised some nice babies and is 25 years old now."
"I grew up in central Indiana and my dad, Bob Head, was a horse trainer and ran barrels. I got my first pony at age 3 and got my first barrel horse when I was 6. I have to say he was the biggest influence in my barrel racing career. You won when you went with my dad and I learned how to ride a barrel horse. He made me very determined. That determination has helped me keep working with a young horse that's not very talented to get it out of him. I don't give up on them."
"Looking back, the accomplishment that means the most to me was in 1998, it was the year I was able to build the barn. There were 650 futurity horses entered at Fort Smith and I put 3 of them in the top 50. Two of them were mine and one was a customer's horse. That was a big year for me."
"Advice I would give to a young barrel racer is to watch, listen and learn everything you can from the top winners. You can never stop learning."
For more information on the International Pro Rodeo Association and the International Finals Rodeo, visit their website, www.iprarodeo.com.
###