Matthews Family Poses Triple Threat at IFR49
October 29, 2018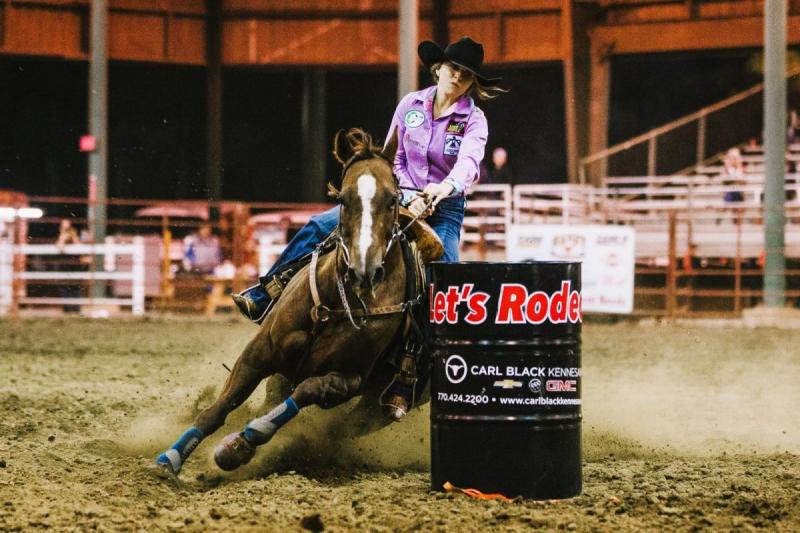 By: Tammie Hiatt
It's safe to say that the number "3" is a lucky number for the Matthews family from Wynne, AR. The Matthews trio is the first family to qualify three members at the IFR in the same event. Also, the three picked up checks at three rodeos, Oneonta, AL, Fountain Inn, SC and Gainesville, GA.
The Matthews family is solid in the top 15 of the IPRA barrel racers. Taycie is currently 2nd in the world standings and is just $1,000 shy of overtaking former world champion Kindyl Scruggs. Kim Matthews is 3rd in the world standings and Jaylie sits in the number 6 seat. "Taycie is still going," said Jaylie. "She's going for the world championship. My grandparents are traveling with her to the last few rodeos."
Although IFR49 will be the second appearance for both Kim and Taycie, 17-year-old Jaylie is looking forward to competing with mom and sis in OKC. "Last year I had focused on making the Lucky Dog Production's barrel race finals and didn't go to as many rodeos as they did. This year I decided to make rodeo my main focus. We're excited to all be competing at the IFR together. It was secretly our goal, but we decided whatever happens, happens," Jaylie said.
"We've traveled a lot this year. We made two trips to Canada. Their rodeos were interesting; the biggest difference was everything being announced in French. I spent a lot of time running back and forth because I didn't know which event was next and when I ran."
"My main mare, Gabby, slipped on the concrete at Lebanon, TN and flared up an old injury, so she has been out all summer. I've had to ride a lot of different horses this year. The rodeo that stands out in my mind was McBain, MI. I was riding my mom's mare and we won it by 4 tenths, it was a picture perfect run."
"I recently bought a mare that Alicia Kilgus had been hauling. I've had her a little over a month now. Her nickname is UhOh and she is only 14.2 hands. She's really easy to be around and fun to run. She's somewhere between a push style and a free runner, she goes back and forth. I like her in the littler pens but Alicia liked to run her in the bigger ones. She can't handle the deeper ground, she does better on harder ground."
"When I'm looking for a horse the first thing I notice is their turning style. A horse has to have a turn style that works for them; they are all different. I personally like a roll back style turn. The next thing I consider is their speed and how fast they can get between barrels. Size is probably the next thing I look at, I used to really like the bigger horses, but now that I've ridden a smaller one, I'm liking the small horses."
"I'm going to start back riding Gabby and see how she feels and go from there. I'm hoping to be able to run her at the IFR. Mom ran her there last year before she got hurt. I plan on taking UhOh too just in case Gabby isn't 100 percent."
The Matthews family will write their page in IPRA history at IFR49 January 18-20, 2019. Tickets are on sale now at the State Fair Arena in OKC.