Kenzie Cook's Focus for 2019
March 4, 2019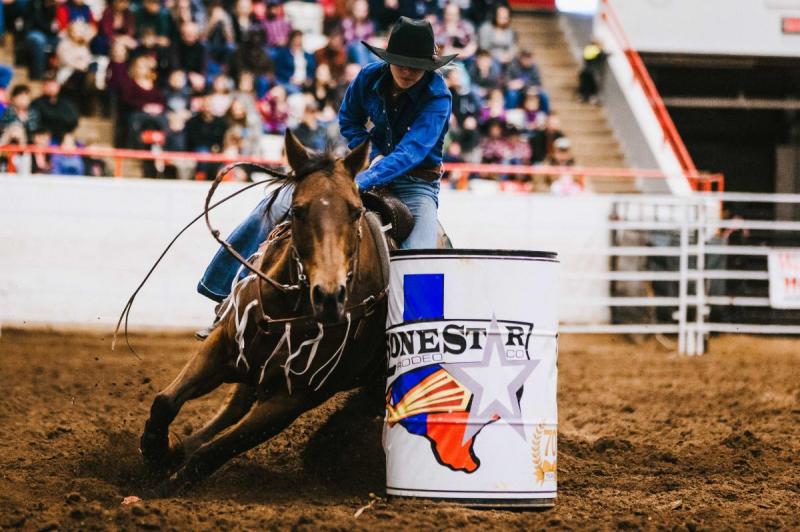 By: Tammie Hiatt
To miss an IFR qualification by $300 and finish your rookie season 16th in the world standings was a heartbreaking experience for Kenzie Cook. But the past is the past and the Barnwell, SC cowgirl is determined to have a better outcome for 2019.
"I had bought my card in April of 2018, but didn't get to many IPRA rodeos until August. I went to the IFYR in July and met Sadie Wolaver and we became friends. We planned a rodeo trip for when we got back home. The first of August, Sadie and I and Jessica Brown went up north to several rodeos. I won around $2,000 and decided to try to make the IFR even though I was getting such a late start. From August to the end of the rodeo season, I was on the road every weekend making as many rodeos as possible."
"I went to St. Tite, QU, it was the coolest rodeo I've ever been to," Kenzie said. "I even went to Inola, OK and Ft. Worth which were the very last two rodeos of the season and I missed making the IFR by $300. It was heartbreaking."
"This year I decided I'd start a lot earlier. I convinced my parents that we needed to add another horse to the team so I wouldn't have to haul my main horse so much. I've had a good start to the year, I won Salem, VA and second at White Pine, TN."
"I have decided not to high school rodeo this year, even though it's my senior year. My hearts just not in it, I'd rather focus on the IPRA and SRA rodeos. I plan to go back to the IFYR in July and go to some rodeos on the way before it starts."
Kenzie has grown up in a rodeo family. "My mom Mandy, has always competed and my dad Joe, steer wrestles and has made the IFR seven or eight times. My mom has really taught me how to rodeo and how to look at the arenas and know how to set my horse up. It took me a while to figure it out, but Mom knew what she was talking about," laughed Kenzie.
"We bought Mo in 2015 to be my Mom's horse. I rode her at the Youth World and won the 2D horse trailer. Mom decided I could run her a little longer, I've ridden her ever since."
"Mo's registered name is Fletch N Flo. She's 10-years-old and is 14 hands on the dot," said Kenzie. "She has lots of heart and try, I can be confident that no matter what the conditions are, she's going to try her hardest."
"She does some goofy things now and then, that's just her. But last year she started jumping puddles if it was muddy and she just seemed off to me. Our horse-shoer decided to try some wedge shoes on her and a few different things. It really helped her and she got a lot more solid. We went to three rodeos one weekend and each arena had very different ground and we placed at all three."
"We just bought a nice horse from the Wolaver's. I always look for cutting bred horses. They are smaller, catty and have natural rate. Mo is by Royal Fletch and Pistol, the new horse is Playgun bred. He's older and has been to a lot of rodeos. He likes the larger pens while Mo loves the little arenas. I'm excited to haul him this year. I really want to go to the fair rodeos up north this summer. I'm looking forward to the 13-second racetrack pens."
"My goal is to be at IFR50, I'm getting an earlier start this year and with two horses to haul, I'm determined to make it happen," Kenzie said.
For more information on becoming an IPRA member and to see a schedule of upcoming rodeos, visit www.iprarodeo.com.