INTERNATIONAL PRO RODEO ASSOCIATION NOW SANCTIONS WORLD CHAMPIONS RODEO ALLIANCE EVENTS
December 4, 2019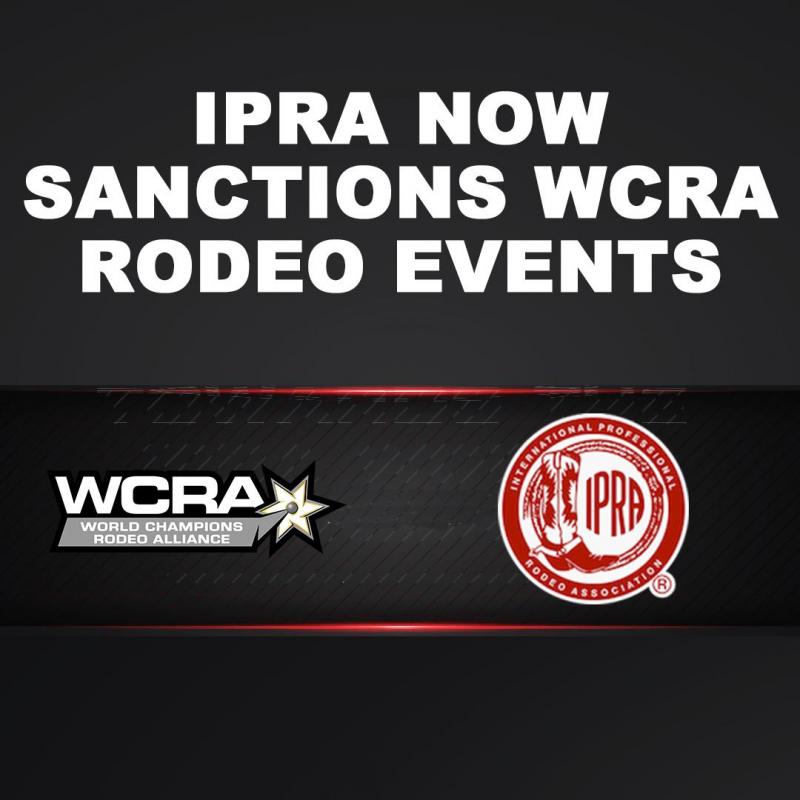 PRESS RELEASE
INTERNATIONAL PRO RODEO ASSOCIATION NOW SANCTIONS WORLD CHAMPIONS RODEO ALLIANCE EVENTS
-- WCRA Rodeo Earnings Now Count Towards the IPRA World Standings--
OKLAHOMA CITY, OKLAHOMA- The International Pro Rodeo Association (IPRA) and the World Champions Rodeo Alliance (WCRA) are pleased to announce that the IPRA will now sanction all WCRA events. All athletes who earn money at WCRA events will be able to count up to $10,000 of those earnings per year towards the IPRA World Standings starting in 2020.
"I'm excited about this great opportunity for current IPRA members as well as the potential it has for new IPRA membership growth," said IPRA General Manager Dale Yerigan. "I believe this enhanced relationship with the WCRA will set in motion a new period in professional rodeo and create unprecedented opportunities for rodeo athletes."
In order to be IPRA eligible, athletes who complete in WCRA events must be IPRA members prior to the start of competition and must compete in more than 10 IPRA events in 2020 for their WCRA earnings to count towards IPRA Standings. The WCRA January and February 2020 Semi-Finals earnings will not count towards the IPRA World Standings- WCRA segment five events and beyond are only applicable.
Since announcing the IPRA-WCRA alliance in May 2018, the relationship has continued to grow. With hundreds of nominations from IPRA events in just over a year, IPRA members have had the opportunity to nominate and earn competition and consolation points. WCRA's alignment with the IPRA has maximized its members efforts to earn a spot in one of WCRA's $500,000 semi-finals events and possibly move onto a one-day $1,000,000 major rodeo.
"WCRA is all for rodeo and we want to see rodeo grow and improve," said WCRA President Bobby Mote." Having the IPRA count earnings from WCRA events will open the door for more sanctioning and co- sanctioning opportunities, further breaking down the lines of division which I believe have held rodeo back."
The IPRA was involved in sanctioning over 400 rodeos across North America and boasted a total membership of over 2,700. Numbers have been on a steady increase in recent years and the IPRA continues to offer new opportunities for its growing membership.
Since launching in May of 2018, the WCRA and its partners have awarded more than $5,700,000 in new money to rodeo athletes.
Qualifying for WCRA events is based purely on performance and on series points, rather than dollars won, through the Virtual Rodeo Qualifier (VRQ). For athletes interested in learning more about the WCRA and the VRQ, or you're an event producer/promoter interested in aligning with the WCRA platform and the new expanded points initiative, please visit wcrarodeo.com or call 833-368-3787.
###
About IPRA
The International Professional Rodeo Association (IPRA) has been providing rodeo excitement for more than 60 years. From big cities to small towns, from major league stadiums to portable arenas, the IPRA is the sport's second largest professional rodeo association sanctioning over 400 rodeos. The IPRA is keeping the spirit of the west alive from coast to coast throughout the United States and Canada.
About WCRA
WCRA is a professional sport and entertainment entity, created to develop and advance the sport of rodeo by aligning all levels of competition. In association with PBR, WCRA produces major rodeo events, developing additional opportunities for rodeo industry competitors, stakeholders and fans. To learn more visit wcrarodeo.com. For athletes interested in learning more about the WCRA Virtual Rodeo Qualifier, visit app.wcrarodeo.com