Julie Thomas and Amos Are IFR Bound
October 22, 2019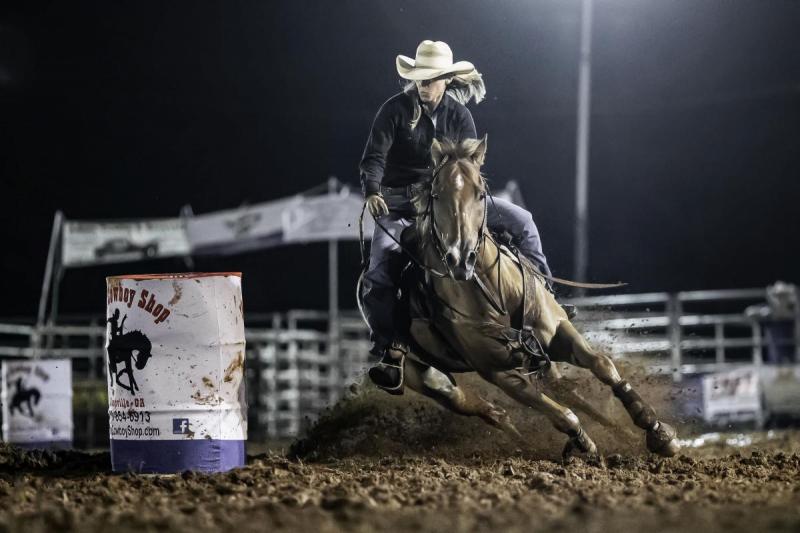 Julie Thomas and Amos Are IFR Bound
By: Tammie Hiatt
Photo By:Southern Shooters Photography
Julie Thomas of Ranger, GA will be making her IFR debut at the Lazy E Arena in January. She is currently 4th in the IPRA world standings. "I actually had a goal this year to make the IFR and I'm very excited to get to compete at this prestigious rodeo," Julie said.
Barrel racing has been a part of Julie's life since she was a young child in west Texas. "I grew up on a ranch in a rodeo family and both of my parents competed. I was on a horse all of the time. I came up through junior rodeos, high school and college rodeos. The competition was pretty tough at the college level and I was fortunate to have some success."
Julie earned a B.S. in Agricultural Business and Economics at West Texas A & M University and her M.ED. Leadership and Supervision at Lincoln Memorial University. She currently teaches at Calhoun Elementary School in Calhoun, GA."I met my husband, Matt, during college. After we got married, we came to his home state of Georgia to live. We have two sons, Tate, who is 20 and a sophomore in college; and Logan, who is 15 and in high school. Tate competes in all three timed events at the college rodeos and Logan team ropes."
"I rodeoed for years after college and then we had kids and I turned my focus to their junior rodeo schedules. When Tate was in 8th grade I came across the horse I am riding now. I was looking for something to run at the open rodeos and I bought him from a friend on a trade deal.
He had a few issues that we had to work through when I first got him, but I knew Terri Alexander had trained him, so he'd been started right."
"I've been riding him for 6 years and he's 13 now. His registered name is The Cool Zippy Zevi. He's out of Zippy Zevi Dasher and The Cool Shadow, we call him Amos. He's about 15.1 and weighs around 1100. I've been rodeoing on him at the rodeos close around the house, every year he has gotten stronger and more confident. I never have to worry about him giving me all he's got."
"Amos tries really hard every run. I never worry about him no matter what the ground is like, he's going to take care of himself and me. It doesn't matter if the ground is deep or muddy, I know he's going to try his hardest."
"He tends to get a little excited at the gate and sometimes it makes it hard to get his first barrel angle. I try to keep him calm and to keep him from getting too anxious," said Julie. "My favorite pattern size is probably a 15-16 second run or larger. Amos really likes all size pens, but in the really small pens its harder for me to help him."
"Amos is the only horse I have right now. I'm always on the lookout to see what is out there. I don't go off of breeding completely. I like a little cow breeding, but I want a horse that can run. I look at temperament, disposition and willingness to move and do what I ask."
"This is the first year I haven't had to go around my kids' rodeo schedules," laughed Julie. "Living in north Georgia, I've been able to rodeo a lot and not have to travel very far from home. The farthest I have traveled this year has been to a rodeo in Ohio and to Harrison, AR. I earned my biggest checks at Fountain Inn, SC and Harrison, AR. I'd have to say that Harrison was my favorite rodeo this year, the committee was great."
"With my oldest son being in college in Weatherford, TX and my youngest going to team roping's, I've had to go by myself quite a bit. I had a friend go with me when I went to Ohio and Arkansas. I don't travel very far because of family obligations."
"I have to admit my one superstition," said Julie. "I got it from my daddy when I was little, you never lay a hat on a bed. I've managed to pass this on to my sons!"
Julie and the other IFR contestants will be writing a page in the IPRA history book as the rodeo leaves its home at the State Fair Arena and heads north to the Lazy E Arena in Guthrie. The added money will increase to $33,000 per event at the 50th anniversary of the International Finals Rodeo. For more information on the IFR and the IPRA visit www.iprarodeo.com.
###