3rd Generation Barrel Racer Jessica Brown is IPRA Rookie Contender
June 8, 2018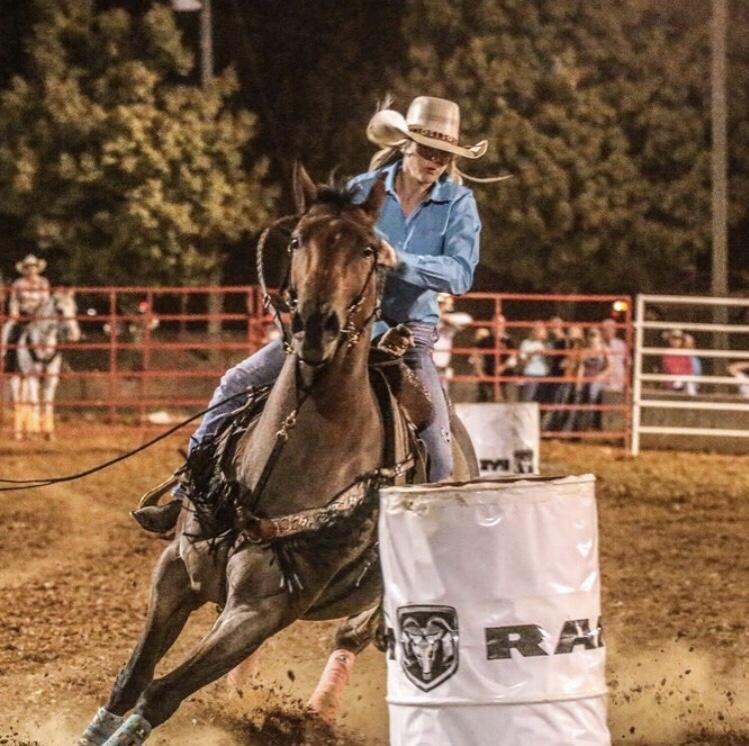 By: Tammie Hiatt
A year ago, Jessica Brown never dreamed she would be 7th in the IPRA world standings or be sitting 2nd in the rookie of the year race. "I traveled part of last year with a friend and we went to some IPRA co-sanctioned rodeos. I'd went to a few rodeos over the years, but last year decided to get my feet wet. I realized that I could keep up with the other girls and compete on this level. I decided to wait until this year to get my card so that I could have a full season on my rookie card."
"I grew up in upstate New York. My grandparents had a riding stable and actually had barrel horses, so I've grown up in the barrel racing industry. My mother Pam Brown used to ride bulls on a women's pro team. I remember sitting in the stands watching her, wishing I could be in the arena competing too. When she started running barrels I couldn't wait until I could be competing too. Being from up north, it was hard, there weren't many rodeos to go to, mostly just barrel races. My mom and I moved to Tennessee in 2001. I still go to New York to visit my dad and grandparents."
"It would be exciting to win the rookie of the year title, but my work keeps me from traveling as much as I would like. I'm going to change my goal to just staying in the top 15,"
said Jessica. "I'm trying to get to know some other barrel racers. I want to go to the fair rodeos up North, and it'd be nice to have some girls to travel with."
"I had mostly competed at NBHA barrel races, and that is where I first got to ride Clifford.
I've been riding him for seven years but just purchased him last year. David and Linda Walls owned him and gave me the opportunity to buy him."
"His registered name is Dinkys Roan Racer, he's 14 years old and around 15 hands tall. He's really not that big of a horse when you get up to him. Jessica Young started him as a colt. Several jockeys have ridden him at the NBHAs. When I got the chance to ride him I asked if I could take him to a rodeo. He'd never been in that atmosphere or ground conditions, and he loved everything about it, and we won the first rodeo we entered."
"He's got a great attitude for a barrel horse. I really like his temperament and his laid back personality. I really like him in smaller patterns. A 14-second pattern fits him the best. That's one reason I am so excited about the fair rodeos up North. The harder ground on the racetracks fit his rollback style better than deep ground."
"He loves the arena at Toney, AL. We've competed at this rodeo twice and we've won it both times. The first time, I was next to last in the slack and we were running really late and I was so rushed; we made our run and ended up winning it."
"During the week, I focus on keeping Clifford healthy and happy. I long trot him a lot or walk him through the hills. He goes twice a week to UT to get in the cold water spa and the water treadmill to keep him in shape and feeling good."
"I recently graduated from the University of Tennessee in Knoxville with a Bachelor's of Science degree in Agriculture. "I plan to focus on equine nutrition and see where that takes me."
"Now that I'm out of college and have started on my rodeo venture, I'm working at a hunter/ jumper barn. We have about 24 horses that I help exercise daily. When I'm not at work, I'm at the roping pen with my boyfriend, Justin. He and my mom both travel with me. My mom also raises a lot of colts and I help her train them and go through the hauling process."
When asked if she has any hobbies or what she likes to do in her spare time, her reply came as no surprise, "I eat, breathe and live it [barrel horses]."
The IPRA website has up-to-date rodeo results, world and rookie standings, and a calendar of upcoming rodeos across the country.
Photo: Blakley's Captures