Barrel Racers Battle for Gold Buckle at IFR Golden Anniversary
December 19, 2019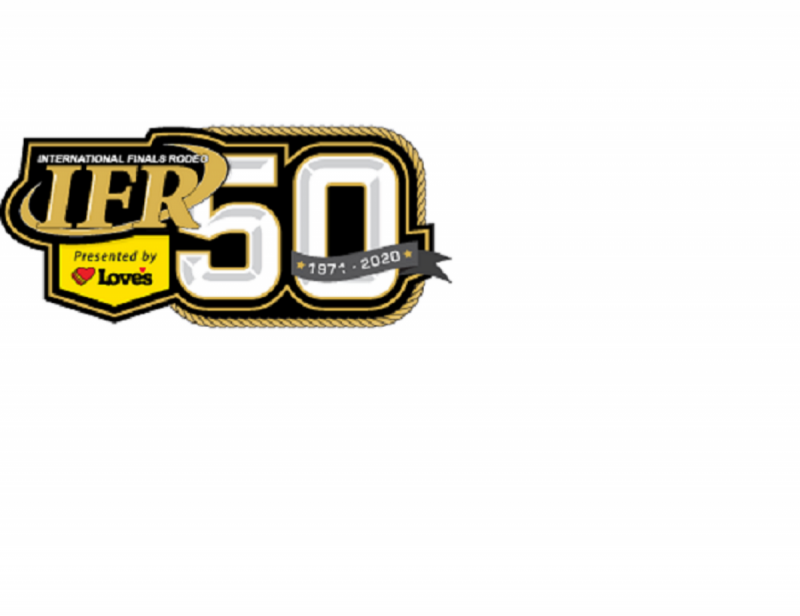 Barrel Racers Battle for Gold Buckle
at IFR Golden Anniversary
By: Tammie Hiatt
The International Finals Rodeo will celebrate its 50th anniversary January 17-19, 2020. The iconic rodeo announced in late August that it would be moving from the State Fair Arena in OKC to the Lazy E Arena in Guthrie, OK. The added money for the four-performance event will increase to a total payout of $300,000.
The roster of top 15-barrel racers is heavy with talent. Leading the pack is Kindyl Scruggs of Southaven, MS. She comes into IFR50 with earnings of $46,919.87. She won the world title in 2016 and the average at both IFR47 and IFR48. The State Fair Arena was definitely a fit for her great gelding, Money Red Down Home or Bull; but she is optimistic about going to the Lazy E. "It'll be different, but it'll be good. I hope he likes it as much as he liked Oklahoma City. I'll try to win first every round and lay it all out there and let it happen. I don't safety up, you either know how to win or you don't," said Kindyl.
Jaylie Matthews of Winn, AR comes into IFR50 in 2nd with total earnings of $44,665.99. It's going to be a horse race between Kindyl and Jaylie to see who leaves with the gold buckle. Both ladies are mounted on incredible horse, the new pattern and set up will put them both to the test. It will be one of the best title races of the finals, for sure.
3. Taycie Matthews of Winn, AR, Jaylie's sister, is the reigning world champion. She comes in with earnings of $22,867.02.
4. Julie Thomas of Ranger, GA is riding the 2019 IPRA Barrel Racing Horse of the Year, The Cool Zippy Zevi or Amos. This team has earned $20,130.68 in 2019.
5. Kenzie Cook of Barnwell, SC will be riding her 14-hand mare, Fletch n Flo or Mo. Kenzie and Mo have earned $15,878.65.
6. Sadie Wolaver of Fayetteville, TN earned $15,791.39 during '19. She won the 4th round of IFR49 and hopes to repeat this at the Lazy E Arena.
7. Kara Kreder of Collinsville, OK earned $15,731.70 to make her 3rd IFR qualification. She'll be riding Cross, her 8-year-old gelding, "he loves his job."
8. Kim Picard of Drummondville, QU earned $15,444.72 to qualify for her first IFR. "I've been trying for 3 years to make the IFR, I'm living my dream."
9. Wendy Chestnut of Poultney, VT collected $15,086.66 this season. This will also be her 3rd trip to the IFR. Her partner will be Sun Frost Merridoc or Lucky. "She has a huge heart."
10. BB Hastings of Mattawan, MI is making her IFR debut with earnings of 15,070.41. She will be riding Beea Drinkin Redbull, an 8-year-old sorrel mare. BB will be a crowd favorite.
11. Morgan Feltham of Waleska, GA will earn the Rookie of the Year buckle. She earned 14,074.87 with her biggest payday coming from Blacksburg, SC. She'll be on her 15-year-old black gelding, Kemosabe's Star.
12. Alex Dollar of Florence, AL and her 6-year-old gray mare, Limited Identity or Stella earned
$13,927.85 to qualify for their first IFR. Their biggest payday came at Athens, AL.
13. Morgan Bos of Auburn ON is another Canadian qualifier. Morgan earned $13,720.99 to qualify for her first IFR.
14. Kristin Yde of Benson, NC is making her 2nd trip to the IFR. She'll be aboard Smokin Mack Frost or Smack. Smack and Kristin earned $13,477.45, they had several big paydays from Wauconda, IL, Taylorsville, NC and Harrisonburg, VA.
15. Cindy Paquet of St-Ephrem QU rounds out the top 15 with earnings of $13,407.87. This is her second time to qualify for the IFR. She'll be riding Purrfect Choice an 11-year-old gelding. "He is a consistent horse, he won money at almost every rodeo."