IPRA/WCRA Alliance Announces First "Nominate and Win-and-You're-In" Event
July 6, 2018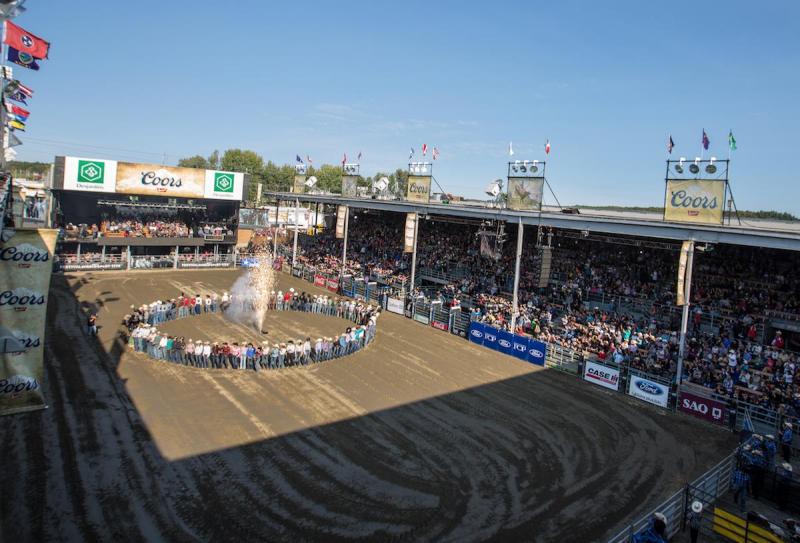 Oklahoma City – The International Professional Rodeo Association has partnered with the World Champions Rodeo Alliance, announcing the IPRA's first "Nominate and Win-You're-In" event to be held during the IPRA's largest regular-season rodeo, the Festival Western de St. Tite, Sept. 12-16, 2018 in St. Tite Quebec, Canada.
The opportunity is the first in what will grow in 2019 to become four unique opportunities a year for IPRA cardholding-contestants to advance into the WCRA Semi-Finals on a path toward WCRA Major Events.
This year, the "Nominate and Win-You're In" event at the FWST will offer IPRA contestants who win in their respective disciplines, after nominating the rodeo through the WCRA Virtual Rodeo Qualifier (VRQ), a direct qualification to compete at the $500,000 WCRA Semi-Finals held at the Lazy E Arena in Guthrie, Oklahoma, November 12-18, 2018.
"The Festival Western de St. Tite is a great venue to host our first WCRA "Nominate and Win and You're In" event, because it's a top-notch rodeo production and a destination event in the IPRA. St. Tite will showcase so many talented IPRA athletes in one place, and some of those contestants will then go on to represent the IPRA at the Lazy E in the WCRA Semi-Finals and hopefully beyond," said IPRA General Manager, Dale Yerigan.
The WCRA Semi-Finals in Guthrie is a direct qualification opportunity for contestants into the first 2019 WCRA Major Event held in late January with $1,000,000 in prize money up for grabs.
"WCRA is excited to seed the "Nominate and Win-You're-In" winners from St. Tite into the $500,000 Semi-Finals held at The Lazy E in November. The Semi-Finals is a terrific opportunity to compete for a big payout with the chance to advance to a $1 Million dollar event with national exposure," said Bobby Mote, WCRA President. "It's a great time in rodeo when an athlete can compete in eastern Quebec and instantly qualify for a minimum of a $500,000 rodeo. We are looking forward to more great chances like this for athletes."
Additionally, July 9, 2018 is the point accrual deadline for the $1M Komatsu Equipment Days of '47 Cowboy Games and Rodeo. Contestants who have been nominating their IPRA rodeos during the 2018 regular season and who are advancing through the WCRA Virtual Rodeo Qualifier, are vying for a chance to compete for their share of $50,000 per discipline at the Days of '47 in Salt Lake City, Utah July 19-21, 2018.
IPRA contestants can find qualification requirements and entry information for the Festival Western de St. Tite on the IPRA's official website.
About the IPRA:
The International Professional Rodeo Association began in 1957 and is now headquartered in Oklahoma City, Oklahoma, sanctioning approximately 350 professional rodeos a year across North America. The IPRA is dedicated to providing the best opportunities in the sport of rodeo for contestants, personnel and fans. The IPRA crowns its world champions annually each January at the International Finals Rodeo in Oklahoma City. FMI visit IPRARodeo.com
About the WCRA:
WCRA is a professional sport and entertainment entity, created to develop and advance the sport of rodeo by aligning all levels of competition. In association with PBR, WCRA produces major rodeo events, developing additional opportunities for rodeo industry competitors, stakeholders and fans. To learn more visit wcrarodeo.com. Athletes wishing to register for the WCRA Virtual Rodeo Qualifier can visit app.wcrarodeo.com