Morgan Feltham's Equation for Life
April 25, 2019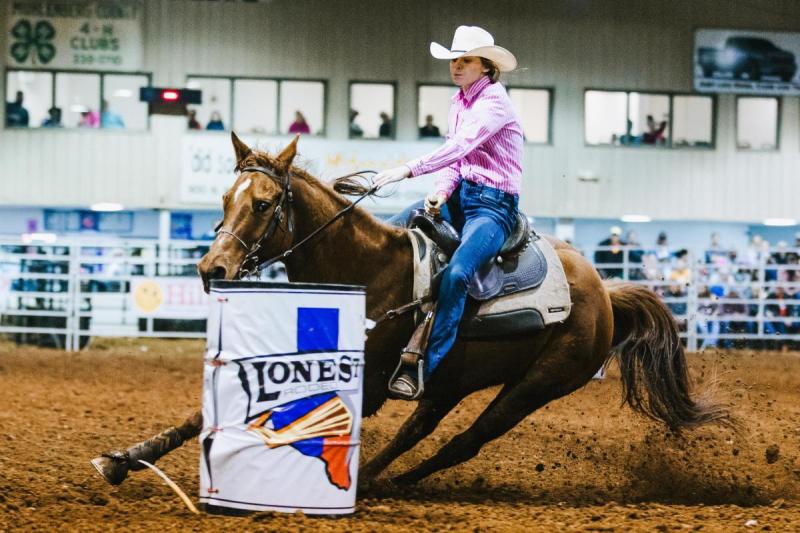 Morgan Feltham's Equation for Life
Goals + Work= Success
By: Tammie Hiatt
"I'm not an over-achiever or anything, but if I'm going to do something, I like to do the best job I can," says Morgan Feltham. The Waleska, GA senior will be walking across the stage of the Cherokee High School May 30 and hopes to be one of her class valedictorians.
Her work ethic and dedication are the same no matter what she's doing. Even though she's still a full-time student, Morgan has taken advantage of the rodeos she's been able to get to this spring and is currently sitting 9th in the IPRA world standings and is leading for the rookie of the year.
"I made two goals for this rodeo season. The main one is to win the rookie and the other is to compete at IFR50," said Morgan. "I've been riding most of my life, but only started running barrels five years ago. I started out showing halter, western pleasure, English and jumping. But my heart just wasn't into it, I found a barrel horse and wanted to give it a try and I've been hooked ever since."
Morgan credits her mother, Beth Feltham, as being a major influence in her barrel racing career. "She always goes out of her way to make my goals a reality. She's always looking for a way to help me improve," she said.
"About three years ago I found my partner, Clabber Juan Dancer or CJ. His breeding is nothing special, he has Raise Your Glass on his papers, but that's about it. He just really fit everything I look for in a barrel horse. He's about 15.2 hands tall, anything smaller than 15 hands and I feel like I'm on a pony and anything bigger is too tall," she said. "I like that he has a big heart and is a smooth ride. "
"I like a free runner over a push-style horse and CJ is definitely a free runner. He's really a great horse to ride. I just help him finish his first barrel and then it's like he's on railroad tracks, he just finishes his run. The less you do the better he takes care of everything. I'm very blessed to have him."
"He makes the same run no matter where we go, and I know I always have a chance to place no matter who's entered. CJ's ideal arena is a 14-15 second run and he prefers indoor pens over outdoor ones. He handles all types of ground pretty well and that gives me a lot of confidence."
"I know this sounds funny, but before I make a run, I'll watch his ears. It grounds me and gets me ready, knowing it's on his mind. But as many rodeos as he's been to, he's scared of everything! He's terrified of hitting a barrel and I think that's one reason he runs so fast; he's scared of being in the arena and he wants to get out of there as fast as he can," laughed Morgan.
"A great farrier is a must with him. His feet bruise very easily, and we have to keep Magic Cushions on him and reset him every five weeks. Our weekly routine consists of a lot of long trotting in the pasture. I'll take him to the arena once every two weeks and tune him on the pattern. I set him up and get him to his points, how I work him at home is how he'll run the next weekend."
Morgan confesses that she is very superstitious, "I have this hideous breast collar that I use on CJ. My friends always tease me about it, but a dear friend gave it to me and if I don't have it on him, we'll have a bad run. My four-year-old's get to wear the nice tack," she laughed.
"I had been competing in high school rodeo, but instead of going to nationals this summer I'm going to focus on the IPRA rodeos."
Morgan plans to attend Berry College and study Animal Science and eventually get into vet school.
Visit www.iprarodeo.com to keep up with world standings, rodeo schedules, results and membership information.
Credit on photo goes to Emily Gethke
###