Former IFR Contender Focused on IFR48
February 2, 2018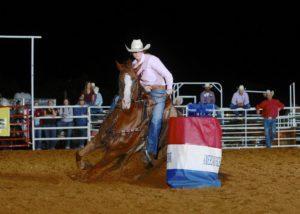 By: Tammie Hiatt
Lacey Scott of Athens, AL is excited about the 2017 IPRA rodeo season. "This year I have a fresh mindset and a positive attitude. I've got positive people and a positive support system around me. I'm very faith driven and God has provided me with a lot of opportunities," said Lacey.
"My goal for 2017 is to qualify for the IFR," Lacey said. "I've had a lot of bad luck since the last time I qualified for it, which was IFR32. I haven't been in a position to even try to make the finals until recently. Between July and September of last year I won $7,000 but fell short of qualifying. So far 2017 has been pretty good and I'm excited to see how the rest of the year goes."
"I'm going to rodeo smart this year," Scott said. "I am a financial advisor with Edward Jones and help families in northern Alabama prepare for retirement. I won't be able to travel as much as the other girls. I plan to focus on the winter rodeos and try to do well at them and then make the larger rodeos this summer. It won't be hard for them to out-rodeo me."
"A few years ago, I set a goal to buy and train well bred colts and take them to the futurities. The gelding I'm riding now is very special to me. I purchased him as a 3 year-old from Busby Quarter Horses in Brock, TX. I went to college with their daughter and they have a great breeding program."
"He is a Frenchmans Guy and out of a Dash to Fame mare. His name is Fameonthehorizon and his nickname when I got him was "Peter" but I added, "Pan" to it because he's like a small child," she laughed. "He won around $15,000 at the futurities and rodeos last year as a 5 year old."
"He's very athletic but he struggled with the ground at the rodeos because he really likes to use his back-end. He runs great in both big and small pens. I like the smaller 12-second patterns myself. I've got less time to make a mistake," she laughed. "In the bigger pens I have more time to analyze things and second guess myself."
"I am currently riding three colts that will run in the 2018 futurities. When I look for colts I focus on how they feel to me. I want them to be light in the face, good footed, good confirmation and willing to please. Peter Pan is the first one I've kept. I've sold a lot of horses that I've started and hauled and I'll probably sell him at some point but no time soon," said Lacey.
"Even though I've been doing this my whole life, I've got to say Ed Wright has been the biggest influence in my barrel racing career. I got to know him when I was in college and he became a great mentor to me."
"I've got very high expectations for myself," Scott said. "I'm single and wanting to buy a place and have an arena. I work all day at my job and come home and ride six horses every night. It's a lot of work by myself, but I stay very motivated."