KANSAS WOMAN BRINGS MISS RODEO USA CROWN HOME FOR FIRST TIME IN HISTORY
January 24, 2020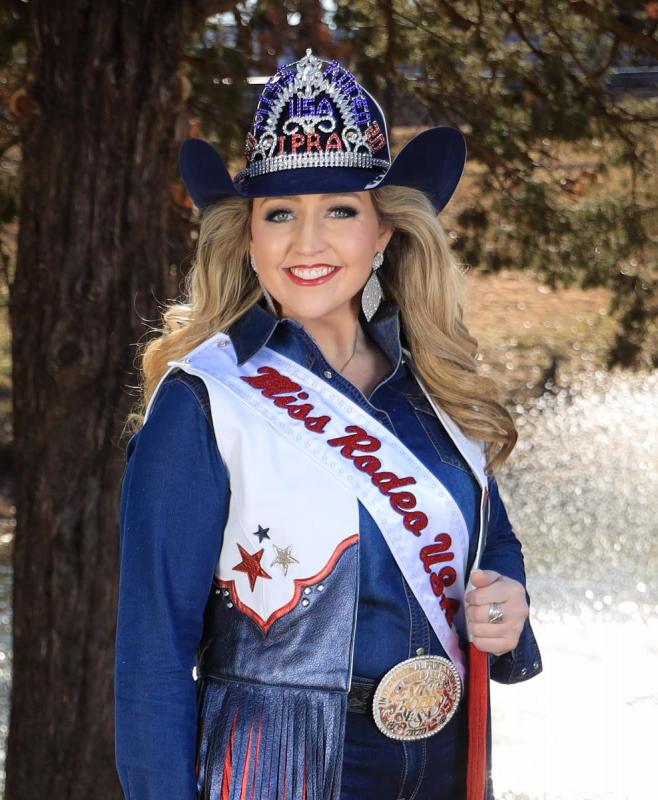 KANSAS WOMAN BRINGS MISS RODEO USA CROWN HOME
FOR FIRST TIME IN HISTORY
GUTHRIE, OKLAHOMA, (January 19, 2020) – Brooke Wallace, a 24-year-old Kansas cowgirl will reign as Miss Rodeo USA 2020, successfully bringing the title to the Sunflower State for the first time in the pageant's 55-year history. Wallace received the honor in Guthrie, Okla. At the final performance of the International Finals Rodeo (IFR), the culminating event for the International Professional Rodeo Association (IPRA). In addition, the IFR marks the conclusion to the six-day Miss Rodeo USA pageant where young women from across the United States vie for the opportunity to serve as the official ambassador for the sport of professional rodeo.
Multiple contestants endured the lengthy pageant and were challenged with judged events such as delivering prepared speeches, riding unfamiliar horses, completing daily interviews, performing in modeling shows and facing an extensive written exam. The young lady selected for the position must exhibit the ability to travel efficiently, speak professionally, act as a role model and positively promote rodeo and the western culture. She will be expected to travel to rodeos nearly every weekend for one year, traveling a distance of approximately 100,000 miles before passing on the crown to the next ambassador.
"I could not be more honored to represent an organization and sport that I truly love. I am ready for a fast-paced year to promote the rodeo industry in every way I can," said Wallace after her crowning moment. "As Miss Rodeo USA 2020, I will strive to promote the idea of dreaming big to inspire people of all ages and backgrounds to work hard toward their goals and not be afraid to dream even bigger, just as our rodeo competitors do day-in and day-out."
Wallace, the daughter of Mark and the late Julie Wallace, is a Kansas State University graduate and currently resides in Council Grove, Kansas. Her resume includes a Bachelor's of Science degree in Apparel and Textiles that she applies to her own future business venture of constructing custom western wear. Beyond her creativity, Wallace has a love for children and a passion for volunteering. She has truly enjoyed her previous involvement with Reins of Hope, a local therapeutic riding center working with disabled youth.
The newly crowned Miss Rodeo USA, represented the Wild Bill Hickok Rodeo in Abilene, Kansas as Miss Wild Bill Hickok Rodeo Queen before attending the Miss Rodeo USA National Pageant as a 2020 contestant. Wallace will begin her reign by hosting a fundraising event that will serve as her coronation celebration for her new title. Information regarding her fundraising efforts, current schedule, how to book Miss Rodeo USA for an upcoming event, or to follow her journey visit www.missrodeousa.com or find @missrodeousa on social media.
# # #
About the Miss Rodeo USA Association
The Miss Rodeo USA Association is a division of the International Professional Rodeo Association. Since 1966, the IPRA Board of Governors and the Miss Rodeo USA Association have orchestrated the national pageant and selection of an ambassador. The scholarship pageant promotes higher education, personal growth and professionalism through clinics and pageant activities and provides awards and career advancement sponsorships. Having celebrated the 50th anniversary pageant in 2016, the Miss Rodeo USA Association is continually seeking volunteers and sponsors to better the opportunities it may provide to young women across the country.